Hello Blind Dog Rescue Friends!
We met pup Bella one day last summer when we volunteered to help her reach her new family. Little did we know we were starting a personal and professional friendship that has brought us — and you! — here to Bo's Bones. Thank you for supporting Blind Dog Rescue Alliance. Every purchase results in a donation to BDRA (blinddogrescue.com) to help other blind and visually impaired dogs reach their loving forever homes.  WANT TO HELP but not part of the group? No problem! Enter code BDRA on the checkout page, save some biscuit dough, and Bo's makes a donation to help these good folks. Cheers for all!

Come in, relax …. you're among friends.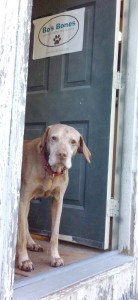 Bo's Bones took its first orders in 2003 … and we haven't looked back. THANK YOU to each and every one who has sent comments, encouragement, stories about your dogs, and placed orders. You've made it happen — BO'S BONES IS GROWING!
This year we expand our collaboration with Challenge Industries in Ithaca NY and thank them for their superb work in packing our biscuits, we're hiring more local folks to take your calls and manage our operations, we're extending our support of canine rescue and care groups, and are increasing our contributions to groups working to help animals and people rebuild their lives.
And it's all your fault. One good deed supports another, and when you order Bo's Bones you begin another cycle of giving, caring, and support throughout a nation-wide community. Thank you for making that possible.
From Jen, Joshua, and Bo, we're continuing to wish you a Great New Year! Keep on coming back, fun things are a-foot at Bo's!
We always appreciate hearing from you. Contact Jen, Customer Service, at jen@bosbones.com or by using the 'contact me' link to the left.
Gotta Getta Bo's!