14 YEARS of making dogs happy!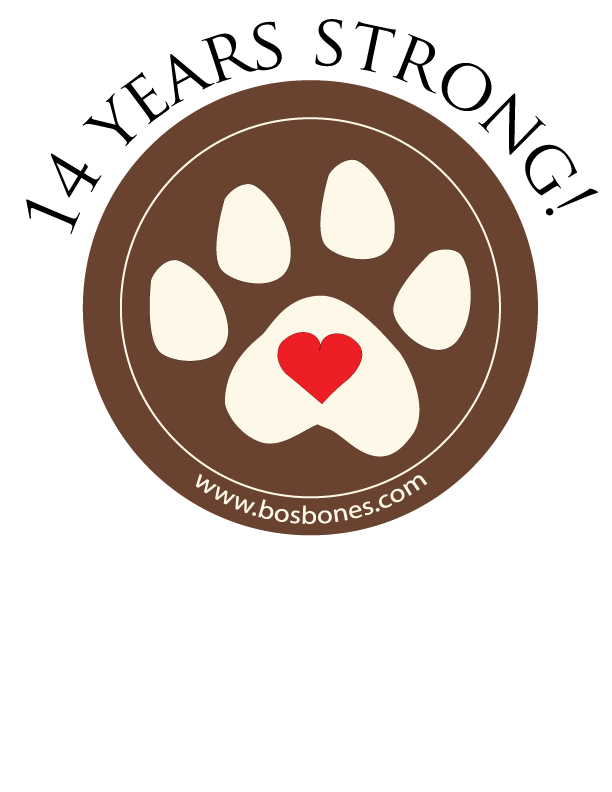 Watch for birthday sales and events throughout this year. And G*R*E*A*T buys. THANK YOU for being part of our dream and our journey. (pssst … PowerBones are on sale now!)
Where in the world is Bo's this week?  Check out (and Like) our FB page. Come visit!
Ithaca Dog Fest 2015 — a benefit for canine rescue groups throughout central NY and nearby PA. Save the date — Saturday Sept 26.  Now accepting applications from quality artisan, music, and food vendors and canine rescue groups. Email Events@BosBones.com for an Early Entry application. 
Bo's supports Shelters, Rescues & Sanctuaries throughout the US. Come join us! Have a Rescue you'd like us to help? Just send word and let's talk. We thank you for supporting our mission!
As always, Bo's Bones brings you the premier organic dog biscuit — rich in honey — made in the US since 2001. Our mission is to spread joy and health through partnerships between dogs and people. We bake — you and your dogs enjoy! From all of us at Bo's — THANKS! Now come on in and make those dogs happy!
We always appreciate hearing from you. Contact Jen, Customer Service, at jen@bosbones.com or by using the 'contact me' link to the left.
Gotta Getta Bo's!