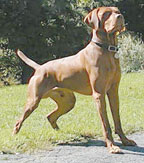 Bo, the Biscuit Mogul. Yes, Bo is a real dog. He's a gorgeous, hunky Hungarian Vizsla. Now snoring quietly beside my desk. He probably wouldn't want you to know that. He's been my right hand through all these years of baking, and he's a reasonably fussy guy about his food. He makes the perfect Quality Control Officer.
Vizslas are the national hunting dog of Hungary and have been the pride of the country for hundreds of years. Their tradition is one of a versatile hunting dog, companion, and guard dog. Bo thoroughly enjoys riding in the BoMobile but he never texts while driving. That's my boy.
Me, Founder & CEO. Jen Gage Sage. After a career combining high tech, publication design, product development and corporate fund-raising, I decided to do what I love best. That's being with my dogs, and baking. But old habits die hard and I started this company. It began as a whim and with the support and cheering of friends, it is now a dream come true. We are making dogs happy plus supporting canine care and rescue throughout this country.
Volunteer bakers & crew. Why do they do this? Fun, at first, then commitment to an idea and ideal. Some are retired, others offer their time between jobs, some come just for the great company and good lunches. They are a camera-shy bunch, so here's a CHEER and THANKS to Marian (Golden), Pat (Blind Dog Rescue Alliance, Aussie Cattle Dog mix, Aussie Shepard mix), Linda (Huskies), Bob (Vizlas), Aaron (sigh, confirmed cat person), Daniel, Matt (German Shepard & Shih-Tzu), April, Lori (Shih-Tzu), Michael (Vizslas, GWP), John (Lab), Lauren (Icie Sheep Dog), Melinda (Vizsla, GWP, Lab), Lauren (Beagle), and Anna. You ROCK. We wouldn't be who we are without you!
Bo's Fan Club. We love the pictures and stories you send. Thanks, kids, you inspire us! Bring 'em on!