"The Best of the Best!"  say reviewers about Bo's Bones. We're famous among dog owners for Bo's delicious rich honey flavor and healthy certified organic grains, and we're famous among stores for our super attractive packaging and high quality, hand-cut biscuits.
Dogs care about taste and dogs choose Bo's! Our secret ingredient that brings dogs from over the hill? It's the honey, the rich, dripping, golden honey. Dogs love it and it's (shhh) nutritious too. Ours is from the award-winning apiaries of the Waid family of Interlaken, NY.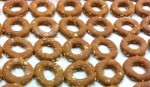 In Bo's Bones your dog has the best of Nature and the best of Natural.
'Simple' is good. Our biscuit contains certified organic whole wheat bread flour, certified organic rolled oats, eggs from free-range chickens, award-winning NYS honey, and spring water.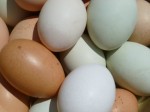 Whether your dog has a touchy tummy, grumbles about treats, or simply walks away from most biscuits … you've found a home at Bo's. We hear it over and over again — "my dog doesn't like biscuits. But he likes yours. Send more." It's music to our ears. Let us help you make your dog happy today!
We bake for your dog and package them for you. Your dog knows!